As a Paytrail customer, you can review your active payment methods and edit your selection of payment methods in the Merchant panel. In this article, you'll find instructions for activating different methods, as well as more information about the special terms for different payment methods.

Here's how to find the payment methods in the Merchant panel:
From the menu on the left side of the front page, click

Payment methods.

Scroll down to the payment method you want. You can find activation instructions by payment method below.
Online banks
You can activate online banking payments immediately without a separate application or acceptance of special conditions. You can activate bank payments with the Status toggle.

Credit cards
To activate credit cards, you will need to submit a payment method application by contacting our customer service. Our customer service will process it within 2-3 business days. In order for an application to be approved, the necessary legal information must be in your online store, such as payment terms, delivery terms, and your company information.
Once your application is approved, you can use the Status toggles to adjust the credit card payment methods. American Express is only available through our new payment interface and merchants with businesses registered in Finland.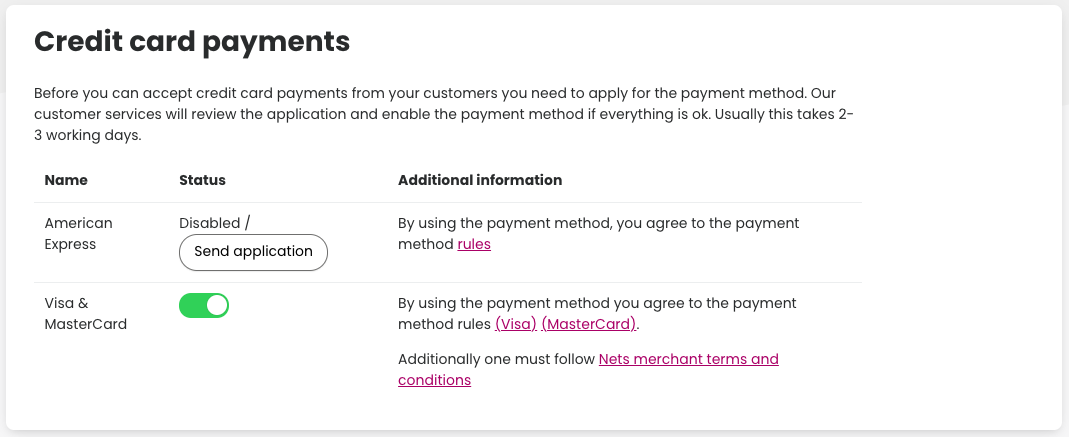 Mobile payments
To activate mobile payments, you must also have access to credit card payments that require a payment method application. Once you have credit card payments, you can use the Status toggle to select your mobile payment methods.

Note: To activate Apple Pay, check instructions found here.
Buy now, Pay later services and their special terms
There are special payment-specific terms associated with invoicing payment methods, which you should read carefully before activating the payment method. You'll find a link to the payment method's specific terms next to the payment method. You can adjust the available payment methods with the Status toggles.