Here's how to search for payments:
1. Log in to the Merchant panel.
2. From the menu of the left side of the home page, click on Payments.
3. To see all search options, press Show more. You can find more information about the search options below.
4. Enter the desired search options in the fields and press Search payments.
Search options
Under Payments, you'll see a list of recent payments by default. The search function allows you to search for individual payments or payments according to certain criteria. You can use one or all of the options to find and filter payments.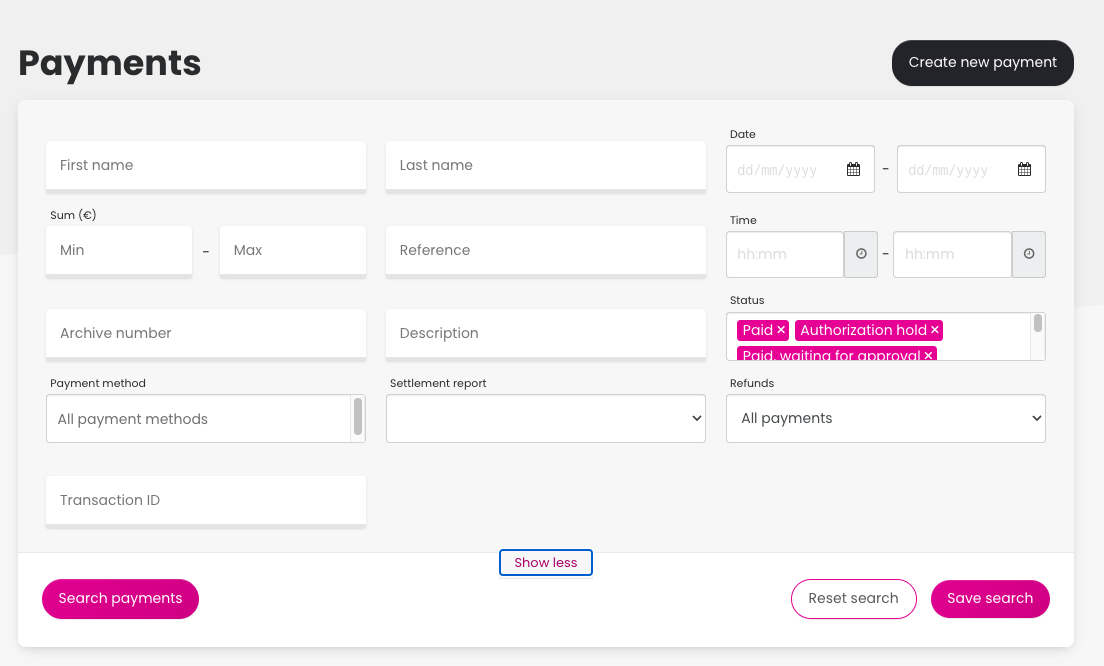 The options are:
First name or last name: Use the customer's first or last name, or both. Searching by a customer's name requires that the online store sends the customer's name to our payment service.
Sum: Enter the exact amount or minimum and maximum amount range you want to search. The sum can be given to two decimal places or as an integer.
Archive number: Use the payment archive number.
Payment method: Select all or certain payment methods from the drop-down menu. All payment methods are selected by default.
Transaction ID: Use the transaction ID.
Reference: Use the payment's reference number. The reference refers to the reference number of either the online store or Paytrail.
Description: Enter the description from the payment or a word in the description. The description should be product information. You can use this field only if this information is transferred to Paytrail when the payment is made.
Settlement report: Enter the settlement report number. You'll see the payments for included in that specific settlement report.
Date: Enter the exact day or dates you want to search. You can opt for date filtering for a maximum of three months.
Time: Enter the exact time or times you want to search.
Status: Select the payment status you want to search for. Status types include:

New
Paid
Authorization hold
Paid, waiting for approval
Cancelled
Paid and settled

Refunds: Select the status of the payment. The options are:

All payments: retrieves all payments.
Refunded payments: retrieves payments that have either a partial or full refund.
Refund transactions: retrieves refunds without the associated initial payments.
Refunded payments and refund events: retrieves refunds and initial payments. So both of the above options.
Details of individual transactions
To view the details of an individual payment, click on the payment from the search results. A new view will open with the payment details. You can also make a refund for the payment here. Detailed refund instructions can be found here.
Saving the results
To save payments to your computer, under the Latest payments click the Download CSV link to save the file to your computer.